Discover more from FlakPhoto Digest
A curated mix of images and ideas
Over 25,000 subscribers
"Art is a way of expanding our resonances, civilization our way of resonating to those expansions." ―
Adam Gopnik
How's everyone doing out there? It's 5 degrees in Madison today, and they're predicting something like twelve inches of snow this week, so winter is definitely here. I grew up in Wisconsin, so I know winter well. For years, I grumbled about the snow and complained about how it complicated life's locomotion. Winter coats, icy windshields, slippery roads — all of it was an inconvenience, and it was easy to overlook the obvious beauty at this time of year.
A decade ago, Adam Gopnik published a book of essays, Winter: Five Windows on the Season, that changed my mind completely. His Winter essays look at how artists depict the season. Here's how he describes the book on his site:
A taste for winter, a love of winter — "a mind for winter" — is, for many, a part of the modern human condition. In this stunningly beautiful meditation, Gopnik touches on a kaleidoscope of subjects, from the German romantic landscape to the politics of polar exploration to the science of ice. And in the end, he pays homage to what could be a lost season — and thus, a lost collective cultural history — due to the threat of global warming. Through delicate, enchanting, and intricate narrative detail, buoyed by his trademark gentle wit, Gopnik draws us into another magical world and makes us look at it anew.
Adam is one of my favorite writers because he always shows me a new way to think about something, and he did that here. I love this book and revisit it often. You can read about it in The Guardian and listen to Adam deliver one of his lectures in this CBC broadcast. It's a beautiful book — check it out!
Gopnik's Winter essays inspired me to see the season through different eyes — less fussy, more open-minded, enthusiastic, and full of wonder. His book reminded me that how we see the world impacts how we feel about our circumstances in it. And so, in 2012, I organized my first Winter Pictures exhibition. I published it on the old FlakPhoto website, which has disappeared like so many online relics, so I can't share it with you today. But, suffice it to say, I found that looking at images of this chilliest season gave me a new perspective on it and helped me appreciate the nuances and natural beauty surrounding us at this time of year. That's a good thing.
Since then, I've shown Winter Pictures on Instagram and encouraged photographers to tag their images with the #flakphotowinter hashtag. (I'm doing it again this year, so please, consider tagging your pictures.) You can read more about how this works on my IG post: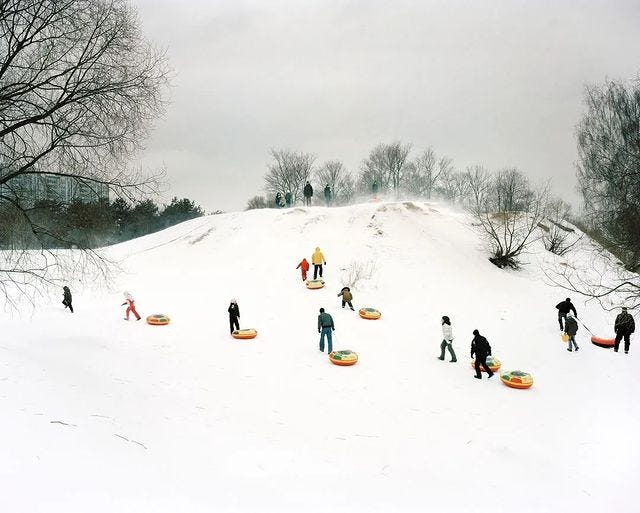 It's a tradition to send happy holidays emails and greeting cards at the end of the year, and I thought it would be fun to do something similar here on my Substack. So I'm going to curate a Winter Pictures newsletter that I'll send in January, and I hope some of you will contribute by sending your seasonal photos my way.
You can reach me by replying to this email or emailing me directly with your Winter Pictures. If you have historical favorites, send those too. Feel free to DM me your photos on Instagram. I'm looking forward to hearing from you!
(I would love more folks to hear about this. Please share this post with your photography friends. You can find the link by touching the headline in your email.)
---
I'll leave you with this: In 2019, Jon Feinstein invited me to co-curate a Humble Arts Foundation Group Show on the Winter Pictures theme. It was fun to collaborate with Jon — he even made a Winter Songs playlist!
I hope these links inspire you — I'm looking forward to seeing your stuff! Have fun with this, and stay warm, friends. Happy Christmas! I'll see you in the New Year. ❄️🎄🌟
---
You're reading FlakPhoto Digest, a newsletter for photography people. This newsletter is free, but paid subscriptions help me develop this project. I appreciate your support!